"THE ESSENTIAL TOUBKAL TREKKING AND CLIMBING MAP"
TOUBKAL & OUKAIMEDEN | Adventure Map Sheet 1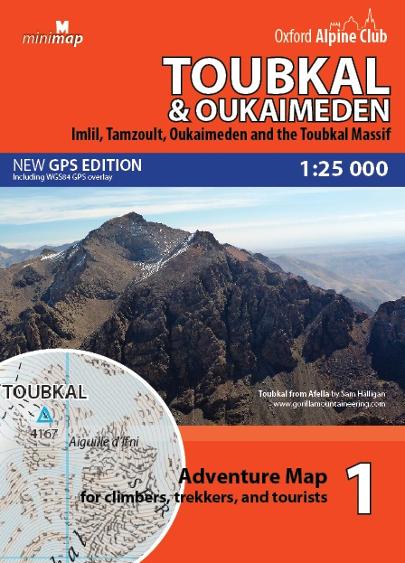 The essential map for trekking, climbing, mountaineering, or ski-touring in the Toubkal National Park, this 1:25000 topographic map covers approximately 140 square kilometres around Jebel Toubkal, including the resorts of Imlil and Oukaimeden.
The detailed 1:25000 topographic map features contours at 10m intervals, hill shading, woodland and scrub areas, rivers and dry riverbeds. It also shows roads, tracks, and paths, as well as ski-lifts, and has annotations for mountain refuges and campsites. A 1km UTM grid and WGS 84 GPS overlay make the map compatible with hand-held GPS devices.
Coverage includes all of the major summits along the so called 'Berber Ridge', including Angour, Annrhemer, Bou Iguenouane, Aksoual, Tamadoute, the Cresta Imserdane, Tichki, Afekkoi, Imouzzer, Toubkal, Bou Ouzzal, Ouanoukrim, Afella, Tazaghart, Biguinnoussene, and Aguelzim.
On the rear side is a 1:20000 street map of Marrakech and surrounds, designed specifically to aid in navigating around the city by car, but also with enough detail to cover the minor streets and alleyways of the old Medina.
This is supplemented by a 1:750000 overview map, showing the main access roads from Marrakech to the central High Atlas mountains.
Published by the Oxford Alpine Club 2016.
Secure card payment and worldwide delivery.
www.oxfordalpineclub.co.uk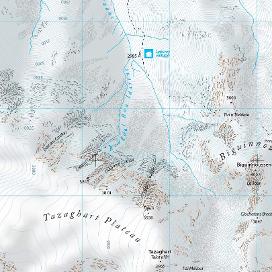 At 4167m above sea level, Jebel Toubkal is the highest point in North Africa's High Atlas Mountains, which run for some 2500km through Morocco, Algeria and Tunisia.
The summer ascent via the normal route from Imlil is a non-technical climb, attempted by hundreds of hikers each year. Guides or porters are frequently employed to make the ascent more pleasant, and mules are readily available in the village of Imlil.
During the winter months, the summits around the Toubkal area offer superb mountaineering opportunities, including easily accessible, low-grade 4000m peaks in a non-glacial environment. Classic summer scrambles become serious mixed routes, and infernal summer screes become enjoyable slopes of perfect neve. Add to that some excellent Scottish-style ice gullies and you've got a winter climbing destination not to be missed!
The 2016 Oxford Alpine Club Toubkal & Oukaimeden Map is your essential companion for trekking, climbing or ski-touring in the Toubkal region, providing the most detailed topographic mapping currently available of the area.
Available now for worldwide delivery.